Overall Score
4
Aesthetic
Acting
Plot
Ending
Food Porn
"The ultimate nostalgia trip through everything edible in 1960′s Britain." – IMDB

Toastin' "Toast" Post–A Toast Post "Toast"
I had no idea this movie was about a real person, let alone a person who is still alive, or what's more, a person I had actually HEARD of. I didn't even realize until the end of the film when they flashed the "where are they now" segment with contemplative piano tones and scrolling credits. I mean, I don't follow his cooking books or anything, but I do know that Nigel Slater is a chef.

Now for the all important WHY you should watch this film:
The movie has a truly brilliant pace, and is quite refreshingly humorous in its cuts, directing, and content. It touches on something that is unfamiliar to myself: the idea of growing up with bad food. I feel as though I'm saying this quite often in reviews, praising movies for being 'different' or 'refreshing'; perhaps all British films are top notch and unique, but those descriptors rang especially true for this movie, which, if I had to broaden it, might just be a  "coming of age" story.
I don't even want to ruin the plot for you, because it really was surprising, and for the most part unpredictable in its twists and turns to the end result.  The dynamic between older Nigel () and Mrs. Potter () ends up being one of my favorites, and Nigel's father (Ken Stott) often frustrates with his seeming dumbness and lack of perception/priorities.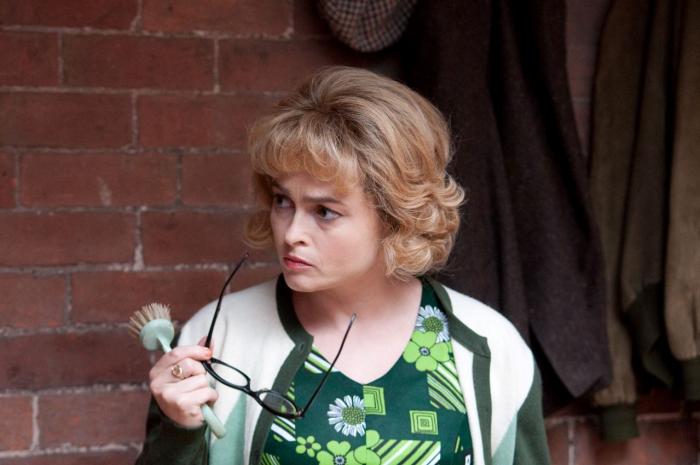 WHEN TO WATCH
Definitely watch this on a dedicated movie night when you're prepared for something that may appear delicate and playful but actually contains serious undertones. PRETTY RAD. If Harry Potter were a pastry chef and Floo Powder was Flour, well, this movie would live in Hogwarts.
The Good
-Helena Bonham Carter
-Movie About Food
-Lemon Merengue
-England
-The Kid From Willy Wonka
-Color Tones and Film Quality
The Bad
-Somewhat Sad
-A Bit Dramatic
-Maybe You Need Subtitles
-The Ending? Unexpected…And Not In A Good Way